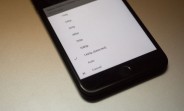 Google has rolled out an update for the YouTube app for iOS that bumps up the maximum resolution on some of the iPhones. While the largest 5.5-inch iPhones have had 1440p option for a while now, all the other iPhone models topped out at 720p.

With the latest update, the 4.7-inch iPhones can now display up to 1440p resolution, provided the video is available in that or above resolutions. Along with that, the small 4-inch iPhones can now also display up to 1080p resolution videos.

Unfortunately, resolution for 60fps videos is still...
Published By: Gsm Arena - Wednesday, 11 January
Older News
LG G6 sits next to LG G5 in this leaked spy shot Gsm Arena (Yesterday) - Goodbye LG G5, hello LG G6. A photo posted to Weibo shows the outgoing flagship next to the one set to replace it. And what a contrast - bezels have...
Huawei Honor V9 becomes official with QHD screen, 6GB of RAM, Kirin 960 SoC Gsm Arena (2 days ago) - If you feel that the Huawei Mate 9's screen is too low-res for you, or simply too big while the Mate 9 Pro's is too small, the Chinese company now...
PREZZO responds after his ex-lover, MICHELLE, claimed he has a small "propeller". Kenya Post (2 days ago) - Prezzo's ex-lover, Michelle Yola, recently blasted him on social media and said that he has a small "propeller" after they had a bitter break-up.Michelle went on her Instagram page and...
LG G6 camera specs officially revealed Gsm Arena (3 days ago) - The LG G6 will have wide-angle cameras both on the front and on the back, a new official teaser from the Korean company has revealed today. The selfie snapper will...