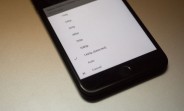 Google has rolled out an update for the YouTube app for iOS that bumps up the maximum resolution on some of the iPhones. While the largest 5.5-inch iPhones have had 1440p option for a while now, all the other iPhone models topped out at 720p.

With the latest update, the 4.7-inch iPhones can now display up to 1440p resolution, provided the video is available in that or above resolutions. Along with that, the small 4-inch iPhones can now also display up to 1080p resolution videos.

Unfortunately, resolution for 60fps videos is still...
Published By: Gsm Arena - Wednesday, 11 January, 2017