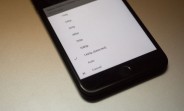 Google has rolled out an update for the YouTube app for iOS that bumps up the maximum resolution on some of the iPhones. While the largest 5.5-inch iPhones have had 1440p option for a while now, all the other iPhone models topped out at 720p.

With the latest update, the 4.7-inch iPhones can now display up to 1440p resolution, provided the video is available in that or above resolutions. Along with that, the small 4-inch iPhones can now also display up to 1080p resolution videos.

Unfortunately, resolution for 60fps videos is still...
Published By: Gsm Arena - Wednesday, 11 January
Older News
Apple Store down in anticipation of today's launches: red iPhones, 9.7" iPads and more Gsm Arena (Yesterday) - Apple was on fire this week - it unveiled the iPhone 7 (Product) Red, doubled the storage of the iPhone SE, unveiled a new, cheaper iPad 9.7, it even added...
Dell's UP3218K UltraSharp 32-inch 8K monitor (worth $5,000) goes on sale Gsm Arena (Yesterday) - Remember the Dell UP3218K UltraSharp 32-inch with its astonishing 8K resolution? Well, the monitor is now available for purchase.As promised at its CES announcement, the UP3218K UltraSharp has a whopping...
iPhone 7 (Product) Red proves popular in China, passes 350,000 registrations Gsm Arena (2 days ago) - The red iPhones a proving to be a hit in China. Over 350,000 people have registered their interest in them (note that these registrations are not as binding as pre-orders)....