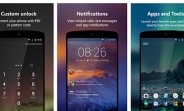 Microsoft has pushed out a new update to its Next Lock Screen Android app, bumping it to version 3.11. It's a small update that is aimed at improving battery life.

The update is said to improve smart lock battery life. The Next can also now use Wi-Fi instead of GPS to get location to save batterys.

The new firmaware brings along some crash fixes as well. The updated Next Lock Screen app is now available for download from the Play Store - head to the Source link below.

Source...
Published By: Gsm Arena - Tuesday, 10 January
In the last 2 hours
Final Android Wear 2.0 Developer Preview is out, brings iOS support to the new version Gsm Arena (Today) - Today Google has launched the fifth and final Developer Preview for Android Wear 2.0. Its next generation wearable platform will be out for everyone in early February, according to the...
Older News
European roll out of HTC 10 Nougat update resumes Gsm Arena (Today) - Less than a couple of weeks after it was halted due to bugs, the European roll out of the HTC 10 Nougat update has resumed - the update is currently...
Asus ZenPad 3S 10 LTE launched with Snapdragon 650 SoC, 7,800mAh battery Gsm Arena (Today) - Asus has launched a new version of itsZenPad 3S 10 tablet that comes with LTE support. The device carries the model number Z500KL is powered by Snapdragon 650 SoC, and...
Microsoft to revamp the Windows Defender Security Center in the upcoming Creators Update Kach Wanya (Today) - Microsoft will be releasing its third major update to Windows 10 come April 2017. The update will be referred to as the Creators Update. With this update expect to see...
Apple outs iOS 10.2.1, macOS 10.12.3, watchOS 3.1.3, tvOS 10.1.1 Gsm Arena (Yesterday) - Today is a big update day for Apple, as the company has released new versions for all of its software platforms. So regardless of which Apple device you have, an...
Samsung reveals Note7 investigation outcome, says original and replacement units had different battery defects Gsm Arena (Yesterday) - Samsung has finally announced the outcome of its Note7 investigation, revealing not one but two reasons that caused some of the units to overheat (and catch fire in some cases).While...
Weekly poll: what do you think of Samsung Galaxy S8's screen size? Gsm Arena (2 days ago) - We received schematics for the Galaxy S8 duo with dimensions and discovered something amazing - the upcoming S8 will be about as big as the S7 it replaces, but its...
January security update starts hitting Sony Xperia X and X Compact Gsm Arena (3 days ago) - Sony has started pushing out a new update to its Xperia X and X Compact smartphones (all variants). Arriving as build number 34.2.A.0.292, the update brings along Android security fixes...
This battery case will give your LG V20 more than 5 days life Gsm Arena (3 days ago) - The LG V20 has a 3,200 mAh battery that can easily get you through the day without any trouble. But if you are more extreme and power user probably even...
Global rollout of Honor 8 Nougat update begins Gsm Arena (3 days ago) - After rolling out to unlocked units in Japan this week, the Huawei Honor 8 Nougat update has now started hitting units in several other countries as well. It's a heavy...