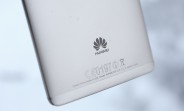 We've just received press invites for the Huawei's MWC event in Barcelona. The conference will take place on Sunday, February 26 at 2MP local time. According to the invite, the company's CEO will "share Huawei's latest innovations and exciting advances".

The upcoming Huawei P10 and P10 Plus should be the stars of the show. We are still not sure if Huawei will launch a Plus flavor this year, but the P10 is certain to happen.

There were various leaks throughout the past few months and so far we expect the P10 to...
Published By: Gsm Arena - Wednesday, 11 January
Older News
Meizu's MWC press event scheduled for February 28 Gsm Arena (Today) - Chinese smartphone manufacturer Meizu has started sending out press invites for its MWC 2017 press conference. The invite reveals that the company's press event is scheduled for February 28, a...
Huawei P10 stars in leaked press renders too Gsm Arena (Yesterday) - A few hours ago official-looking press renders of the black version of the upcoming LG G6 got leaked, and now it's time for Huawei's P10 to receive the exact same...
Huawei will unveil new EMUI 5.1 software layer alongside the P10 and P10 Plus at MWC Gsm Arena (Yesterday) - This Sunday, on February 26, Huawei is holding a pre-Mobile World Congress event in Barcelona during which it will unveil its latest flagship smartphone duo - the P10 and P10...
Watch DeMarcus Cousins' Introductory Press Conference With The Pelicans Hot HipHop (Yesterday) - Boogie believes he and The Brow can 'wreak havoc' on the NBA.http://www.hotnewhiphop.com/watch-demarcus-cousins-introductory-press-conference-with-the-pelicans-news.29250.html...
Nokia to livestream HMD and Whitings event in 360-degree Gsm Arena (Yesterday) - Nokia is going to be a popular name around the MWC grounds - of that we have no doubt. While HMD Global will announce the return of the mighty brand...
Huawei Honor V9 becomes official with QHD screen, 6GB of RAM, Kirin 960 SoC Gsm Arena (2 days ago) - If you feel that the Huawei Mate 9's screen is too low-res for you, or simply too big while the Mate 9 Pro's is too small, the Chinese company now...
Huawei nova lite goes official, buts it's quite the familiar face Gsm Arena (2 days ago) - We're not saying Huawei's naming convention is a complete mess, but Huawei's naming convention is a complete mess. What was announced as the Huawei P8 lite (2017), and is also...
Xiaomi to launch in-house Pinecone chipset on February 28 Gsm Arena (3 days ago) - Xiaomi working on a chipset is no news for the fans of mobile technology. The company even created a Weibo page for Pinecone - the alleged name of its in-house...